in more ways than one!
I'm counting beads. It's that time of year and the bookkeeper in me has to take stock. I know I'm a bit OCD about it. I pick up a packet of beads or findings and I know I could guess the contents pretty accurately but no, I have to count the bloody things! It's going to take me days at this rate.
I am also "taking stock" in another sense. There has been a lot of fuss on Artfire lately regarding their proposed "Assurance Scheme". I have read many of the forum threads with a sinking heart. I do hate it when people I know and like start ripping each other to shreds in public.
The upshot of this being that I have reopened
my Etsy shop
. I am not leaving Artfire - I've put a lot of work into
my studio
there. But, so many sellers were upping sticks and leaving for Etsy, that I decided to revisit the venue. I haven't been there for aeons. It's another country altogether these days. Totally unrecognisable.
However, they appear to have done a decent job of overhauling the site and there are some new features with which I am muchly impressed. I only have one item listed as of today's date (my
Solar System necklace
) and that was just to test out the listing process. I will add more when I have familiarised myself with "circles, teams and treasuries" etc.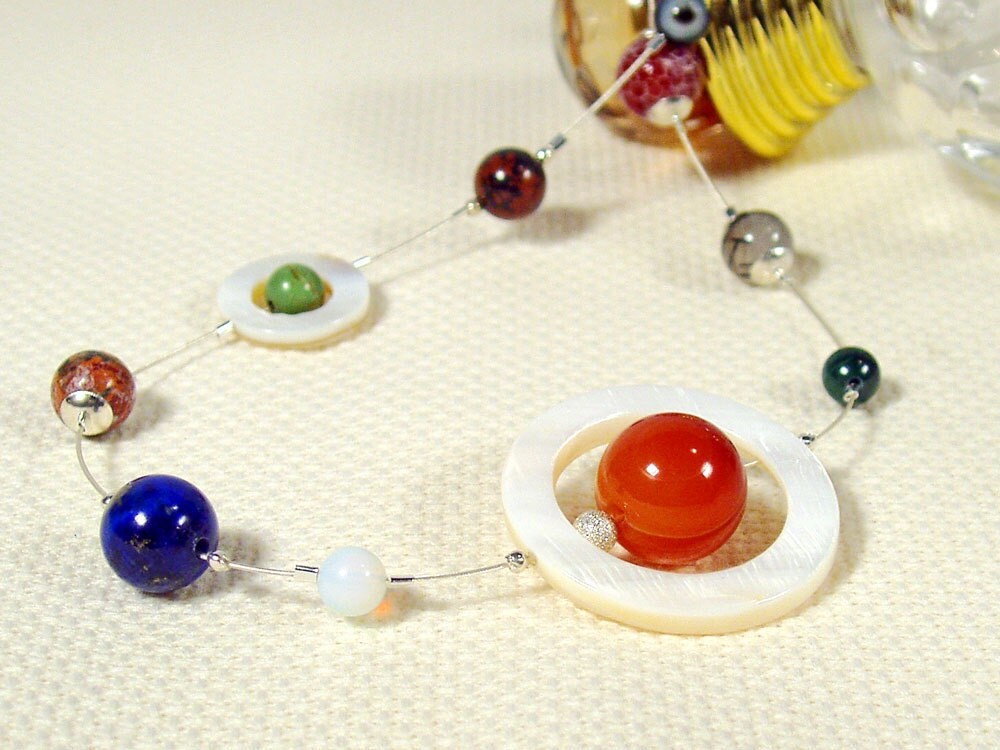 My Solar System necklace on Etsy
2012 is also the year that Bluetina will have her own website. At last! Finally! I have snagged an account at SupaDupa.com, a platform for building one's own boutique on line. The templates look very professional and customer service would appear to be second to none, according to friends of mine who have taken the plunge already.
All I have to do then is market them all to death with
Facebook
,
Twitter
and
Google Plus
! Oh, and blog, of course. Oh dear, I have my work cut out for me, don't I?